Happy Monday All!
Welcome to a new week and a new Tips and tricks Link Party! I hope everyone has had a fun and relaxing weekend! This weekend we spent most of our Sunday making candy at the church and snoozing. Not much going on here in our neck of the woods! How about you?
I am excited to see what you have to bring to the party this! I know that all of your projects are amazing! I cannot wait! Happy Linking!
Features!
Most Clicked:
Hanging Mason Jar Free Crochet Pattern
From
2 Crochet Hooks
Host Favorites
Gabby (Not Too Shabby Gabby): Pumpkin Spice Skillet Cinnamon Roll
Krysta (Krystasteen.com): Whole Grain Banana Grain Cookies
Heather and Kathleen (Fearlessly Creative Mommas): How to Setup a Successful Freezer Meal Exchange
Lisa (Drugstore Divas): Rich Chocolate Cookies with Goodies
Patti (Garden Matter): Mr. Blinky's Halloween Table
Heather (Stringtown Home): O'Brien Potato Casserole
Jessica (My Life with Jess): Halloween Lantern with Etchall
Heather (Frugal Mom of 8)
Don't forget to grab a button to show where you link up!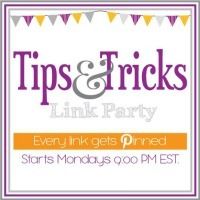 If you have been featured you should brag about it! Grab our button below!