Happy Monday!
First Link Party of year! It has been quite a year hasn't it? It was my first year starting in June blogging and I must say I have met some amazing people doing what I love! I am so glad that I had this opportunity to do the Tips & Tricks Link Party and help some of you grow too!
To end the last year off with a bang I did my top most popular posts on my site, which can be found Here–> Top 10 Posts of 2015! The number 1 recipe of last year was such a great one and I would love for you all to take a peek and see what you like the most because there is something for everyone in that post! Let me know what you think!
I cannot wait to see what you have been up to starting this new year, so link up your projects, recipes, crafts or your ramblings of the new year or your favorites!
Happy Linking!
Most Clicked
Peannut Butter, Nutella and Bacon Cookies from Just Another Mom
Favorites
Lisa's Favorite (Drugstore Divas): Peanut Butter, Nutella and Bacon Cookies
Heather's Favorite (Frugal Mom of 8): 2 Things your Marriage Needs this Week from Megan Rea Blog
Krysta's Favorite (Krysta Steen): Bacon Cheddar Cheese Ball from Lou Lou Girls
Gabby's Favorite (Not Too Shabby Gabby): Pomegranate Lemon Cupcakes from Lou Lou Girls
Jessica's Favorite (My Life by Jessica Wise): Cinnamon Swirl Eggless Shortbread Cookies from Winnish
Heather's Favorite (Stringtown Home): DIY Advent Calendar from One Perfect Day
Pattie's Favorite (Garden Matter): Stuffed Squash with Cranberries and Sausage from Pinch of Nutmeg
Kathleen's Favorite (Fearlessly Creative Mammas): Chocolate Crinkle Cookies from Simple Joys of Home
Don't forget to grab a button to show where you link up!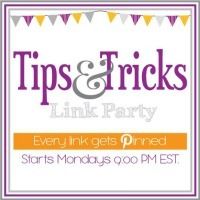 Were you Featured? Show it off! Here is a button!