Happy Monday all!
I think this weekend has gone by way to fast! I still want that relaxing time in the bathtub right now!
Anyways this past week here on Not Too Shabby Gabby there have been a couple of recipes that I do not want you to miss! Both of them are gluten free and completely Vegan too! However, they do not have to be vegan it does make them a little bit healthier for you! Anyways, The first recipe are some delectable Vanilla Doughnuts that were amazingly tasty with a cool glass of milk or with your cup of coffee in the morning! The next recipe is sure to keep you warm during these winter months ahead and it is the fantastic Chocolate Chai Tea! Perfect to replace that morning coffee on a Saturday or a mid afternoon drink to get you back on track for the day! These vegan recipe are both amazing!
I am so excited to see all of the amazing projects, recipes and posts that you have been working on this week! It seems as though they just keep getting better and better as time goes on! This week I chose a peanut butter smoothie and boy does it look tasty! Don't forget to look at the host favorites from last week! They are excited! Happy Linking!

Most Clicked:
New Tasks for the New Year, Pioneer Woman and Wal-Mart Beauty from Tablescapes by Bev
Favorites:
Lisa's Favorite (Drugstore Divas): Oreo Cookie Dough Pazookie from Pint Sized Baker
Heather's Favorite (Frugal Mom of 8): 52 week Saving Challenge from Drugstore Divas
Jessica's Favorite (My Life by Jessica Wise): Homemade Crescent Rolls from Cooking with Carlie
Krysta's Favorite (Krysta Steen): Pulled Pork Enchiladas from Cooking with Carlie
Heather's Favorite (Stringtown Home): Pistachio Macaroon with Apricot Ganache from A Kitch Hoor's Adventures
Gabby's Favorite (Not Too Shabby Gabby): Peanut Butter Pie Smoothie from Melissa Kaylene
Kathleen's Favorite (Fearlessly Creative Mammas): Croque Monsieur Croissant from Caroline's Cooking
Patti's Favorite (Garden Matter): Cinnamon Slime Tea from Gabriela's Healthy Travels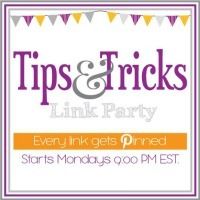 Were you Featured? Show it off! Here is a button!