Hi All you Fabulous People!
I hope your weekend has been restful so that you were prepared for the new week ahead! If not, come on in and take a look at some amazing bloggers to cheer you up! There is some amazing posts being featured this week (or every week) and I don't want you to miss out!
This week in the life of Gabby, I have been busy at work growing my email list! Yes EMAIL LIST! I am quite excited to share with you all the amazing posts and healthy tips for every kitchen!
This past week's posts were some tasty ones! To kick off the play offs for football i made some amazing turkey sausage balls! They were extremely yummy and gluten free too! I think that was my favorite part of that! We also had a chocolate peanut butter granola that was vegan, gluten free and out of this world tasty! In fact, the granola is so good it tastes like a sundae when on top of some yogurt or ice cream! You will have to try it!
I cannot wait to see all of your posts, creations, recipe and crafts this week! Happy Linking!
Most Clicked:
Make My Heart Pound Cake From Pint Sized Baker
Favorites:
Heather's Favorite (Stringtown Home): Nautical Guest Bath by Penny's Treasures
Lisa's Favorite (Drugstore Divas): How to Break Bad Clutter Habits by 1 2 3 Neat and Tidy
Jessica's Favorite (My Life by Jessica Wise): Amsler Apple Cake by Best of Long Island and Central Florida
Gabby's Favorite (Not Too Shabby Gabby): Make My Heart Pound Cake From Pint Sized Baker
Kathleen's Favorite (Fearlessly Creative Mammas): Bacon Cheddar Dog Treats from A Hooah's Housewife
Heather's Favorite (Frugal Mom of 8): Steak and Cheddar Bomb Rolls from Juggling Act Mama
Krysta's Favorite (Krysta Steen): Cheddar Bacon Monkey Bread from Juggling Act Mama
Cassie's Favorite (Southeast by Midwest): Spinach Baked Eggs from A Kitchen Hoor's Adventures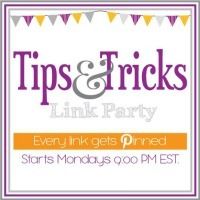 Were you Featured? Show it off! Here is a button!