Hi!
I hope you have had a very relaxing weekend! We finally went and saw Star Wars VII! I loved it and so did my man. I may have cried just a little bit when a certain character dies (I am not ruining it for the other 5% who haven't seen it yet!). It was about time we saw it though. I have read too many spoilers online by accident and it just made me want to see it more!
This week on the blog has been be a tasty one! We made some Paleo Avocado Ranch Dressing that will go perfectly with any salad, veggies or fries of any kind! You can find that simple 5 minute recipe here: Avocado Ranch Dressing. The next recipe is completely game time friendly as it is Taco Dip! My favorite dip to make for the Super Bowl and March Madness every year! You can find that recipe here: Traditional Taco dip.
I cannot wait to see what you have for us this week! I am always looking for new recipes and projects to bring into my tiny abode! Happy Pinning y'all!
Most Clicked
Sugar Cookie Cheesecake from Pint Sized Baker
Features
Gabby (Not Too Shabby Gabby): Apple Cinnamon Doughnut French Toast from Lambert's Lately
Heather (Stringtown Home): Modern Kitchen Makeover on a Budget from No Small Life
Jessica (My Life by Jessica) : Homemade Peanut Butter Cups from Pint Sized Baker
Kathleen (Fearlessly Creative Mammas): Homemade Peanut butter from Garden 2 Plate
Krysta (Krysta Steen): Chimney Cakes from Cooking with Carlee
Cassie (Southeast by Midwest) : A Review of Mercy Street by Debbie Dabble
Heather (Frugal Mom of 8) : 2016 Printable Calendar from 123 Neat & Tidy
Lisa (Drugstore Divas) : Sugar Cookie Cheesecake from Pint Sized Baker
Grab a button to show off where you link up!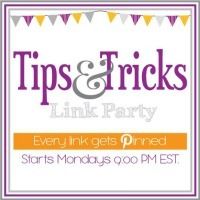 were you featured? AWESOME! Grab a button to represent!