Happy Monday!
I hope you week and weekend have been well! It has been a beautiful weekend here in the foothills of North Carolina with sunshine and 75 degrees. Perfect day to garden and pull weeds! (maybe a little bit of a tan going on here)
The latest posts from me are some great ones! I had to pat myself on the back with these Gluten free egg roll wrappers! So easy to make and can be stuffed with just about anything. The recipe can be found here: Gluten free Egg Roll Wrappers. Also, if you are looking for a snack that is sweet and spicy this Chipotle Cranberry granola is right up your alley! The perfect combination of sweet, spicy and healthy to bring to snack time! You can find the recipe here: Chipotle Cranberry Granola.
I cannot wait to see all of your great posts, recipes, DIY projects and more! Happy Linking!
Most Clicked:
Strawberry Limeade Rum Punch from All She Cooks
Host Features:
Kathleen (Fearlessly Creative Mammas) – Canvas String Art Graffiti by Juggling Act Mama
Krysta (KrystaSteen.com) – Quinoa Veggie Burgers by Little Miss Dexterous
Jessica (My Life by Jess) – Heavenly Blueberry Recipe Roundup by Dreaming of Leaving
Cassie (Southeast by Midwest) – DIY Linen Spray by Dreaming of Leaving
Heather (Stringtown Home) – Blueberry Filled Cupcakes by Juggling Act Mama
Gabby (Not Too Shabby Gabby) – Cheesy Beer Bread from Courtney's Cookbook
Grab a button to show off where you link up below!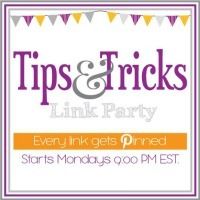 If you have been featured that is awesome! Grab a button to brag about it below!