Happy Monday!
I hope you all have had a great weekend!
I cannot wait to see what you all have to link up this week! Don't forget to check around and see if there are any you would like to see!
Happy Linking!
Most Clicked:
The Best Homemade Banana Bread from Mom of 6
Host Favorites from Last Week:
Cedar Chest Restoration from Redo it Yourself Inspirations Kathleen (Fearlessly Creative Mammas)
DIY Wire Wrapped Bangles from Made in a Day Krysta (KrystaSteen.com)
Angry Birds Movie Night Popcorn Tray from Penny Pincher Jenny Cassie (Southeast by Midwest)
Chocolate Peanut Butter Pretzels from Courtney's Cookbook Gabby (Not Too Shabby Gabby)
Storybook Baby Shower Wreath from Frugelegance Jessica (My Life By Jess)
Copy & Paste the code (below) to let your readers know to come over & party with us!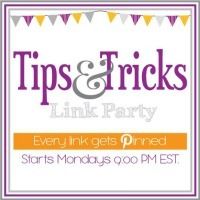 If you were featured, grab a button (below) to brag about it!